I saw today a very rare and coveted sight. One that some people fear maybe vanishing from our towns, cities and even countryside; a most elusive species which is in danger of losing its spirit to the TV, computer and mass media. You maybe wondering where this sighting occurred and what species I spied...a child in the woods, actually three. Three children in the woods, on a trail, headed to the ice caves with their Dad. We all set out for the ice caves around 7:30am; Annie who is approaching 4, Sam who just turned seven and Max, eight. The ice caves are a natural phenomenon located in the Maine north woods. The hike is a mile and provides an opportunity to capture views of Katahdin as well as ramble through a cool, mossy, forest akin to scenes from the Lord of the Rings. Annie took my hand and she and I proceeded to wind our way through the rocks and roots spying out for toads, birds, mushrooms, whatever caught her eye or mine. Max and Sam ran ahead scouting out the trail and practicing their adventuring skills; I am sure for further, more challenging pursuits. It did not take them long to uncover wild strawberries, spider's webs and secret hiding places.
There is a lot to learn in the woods, not just names of trees, plants or birds, but how to cope, be uncomfortable, take risks, and... be quiet. In rambling with children not every questions needs to be answered, but sometimes met with the same curiosity. Adults are full of answers, right or wrong, we answer the phone, texts, e-mails. Our whole adult life is about responding and reacting, fixing and solving. Our intentions are typically well-meaning especially when it comes to children. We pick up, prepare, give, enable, whether it is out of habit or convenience, we can miss the opportunity to assist them in discovery. We can miss the opportunity to ask questions ourselves, which in turn, no doubt ,will lead to more questions. Then you are off and running, together on a treasure hunt, and it isn't really about answers any more but about wondering and creating.
And that is where I found myself on this trek. It wasn't hike, not in the way adults think of a hike.
It was a treasure hunt, and if you talked to Annie a grueling one. Annie learned a lot about being tired. She held my hand the whole way to the caves. Together we found many ways to assuage the tiredness, whether we sang songs, looked for fairy houses or took breaks to pick a snack. We asked questions. We asked more questions, and marveled even more without answers. Annie and I both discovered what it meant to be sassy and strong. The boys' lessons ,although similar, took a more independent edge. As treasure hunters no stone was left unturned even potentially dangerous ones. Learning to adventure safely is important to anyone, whether we are heading off to college, the city, a new job. We all have to calculate risks and how to sort the good from the bad. Sam and Max sought plenty of opportunity to practice such skills with Dad for guidance. Do not underestimate what you can learn from a boulder.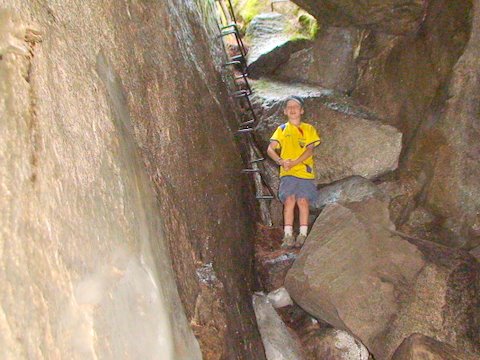 The ice caves are mysterious and they remain so. Why is their ice in them? How does this happen? I can answer these questions, and when prompted will but Annie, Max and Sam developed their own conclusions, which were far more interesting than mine. When I think about offering up all the answers, well, frankly, the ice caves aren't as cool, don't mind the pun, as they once were.
As a program coordinator and designer for families in the outdoor I believe in the spirit of adventure and want to nurture that in visitors. I want to promote experiences which will, and can have long lasting positve effects in people's lives. I hope that positve change will follow them home or on their next adventure. Through the activities I have designed for families I want to assist parents in cultivating outdoor skills and environmental values, especially parents who may not know where or how to support their children in the outdoors. I am exicited to be part of a national trend to get children outside, dirty and healthy.